AES Directors' Meeting - 30 April to May 1, 1986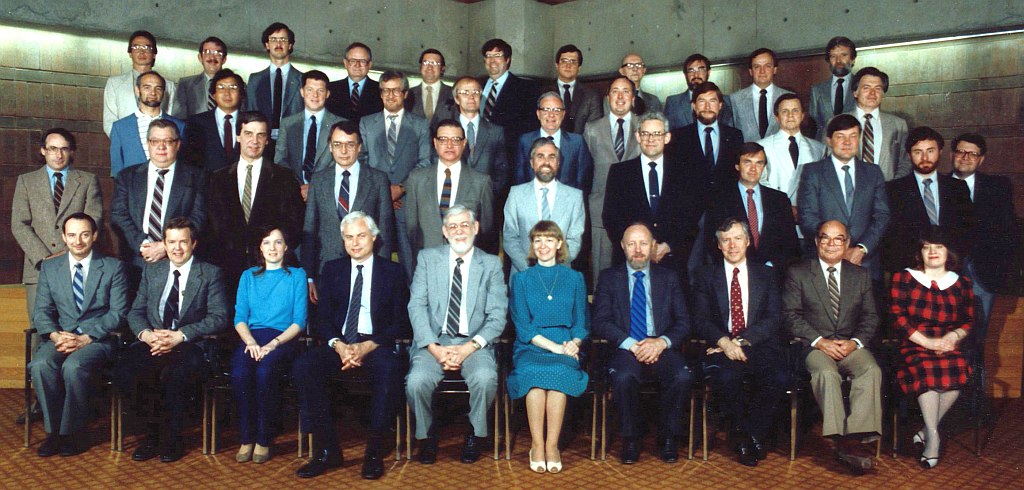 Top row (l to r): Al Wallace, Phil Merilees, Jim Young, Alex Chisholm, Hubert Allard, Wayne Evans, Steve Lapczak, Warren Godson, Kirk Dawson, John Mills, Lloyd Berntsen.
Third row: Richard Asselin, Gord Shimizu, Des O'Neill, Pat Pender, Jaan Kruus, Jim McCulloch, Mac MacLeod, George Boer, Ray Fichaud, Bryan Adamson.
Second row: Mark Trueman, Bev Burns, Bill Pugsley, Joe Boll, François Lemire, Roger Daley, Don Champ, Bruce Attfield, Avo Lepp, Doug Russell, Cal Carter.
Front row: Bob Jones, Mike Balshaw, Julie Young, Ian Rutherford, Howard Ferguson (ADM), Geneviève Sainte-Marie (DM), F. Chambers (guest speaker), Joe Friday (USA National Weather Service), Walter Lawrynuik, Rita Bowkett.

Absent: Phil Aber, Carl Mateer, Brenda O'Connor, René Ramseier, André Robert, Doug Whelpdale.