1988 Calgary Winter Olympics Weather Support Team
(13-28 February)

Photos & Captions from February / March
1988 Issue of Zephyr




Lou Berthelot

, officer-in-charge of the Toronto Weather Office, seconded to The Olympics Weather Support Office (OSWO) in Calgary for the duration of the games, is seen inputting data.


The regular Calgary weather office
was kept busy during the games as


Brian Stifora

, a climatologist working
at this W04 demonstrates.




Eddy Walsh

, a weather service specialist from Quebec City, who worked in the special Olympics weather office is seen reading a wind sensor.




Janine Abar

is seen working at the Calgary Weather Office. Looking on is

Earlena Dawson

, attached to the office during the games.




Don Finch

, meteorologist provided by the U.S. National Weather Service, normally works out of Anchorage, Alaska.




Brian Bowkett

, a meteorologist from Edmonton, engages in forecast preparation at OSWO.




Mitch Kallauer

and

John Schneider

attend the inauguration of METSIS / MPDS




John Yarema

, OIC Calgary Weather Office, studies a current weather map.




Bob Porter

, also of the Calgary Weather Office, is seen reading a barograph.




Bruce Thomson

, coordinator for the OWSO is seen at the Environment Canada Weather Information Centre at Nakiska in the Rockies.






André Lachapelle

, manager of the Olympic Weather Support Group, served as Canadian meteorologist at the Los Angeles Olympic games in 1984.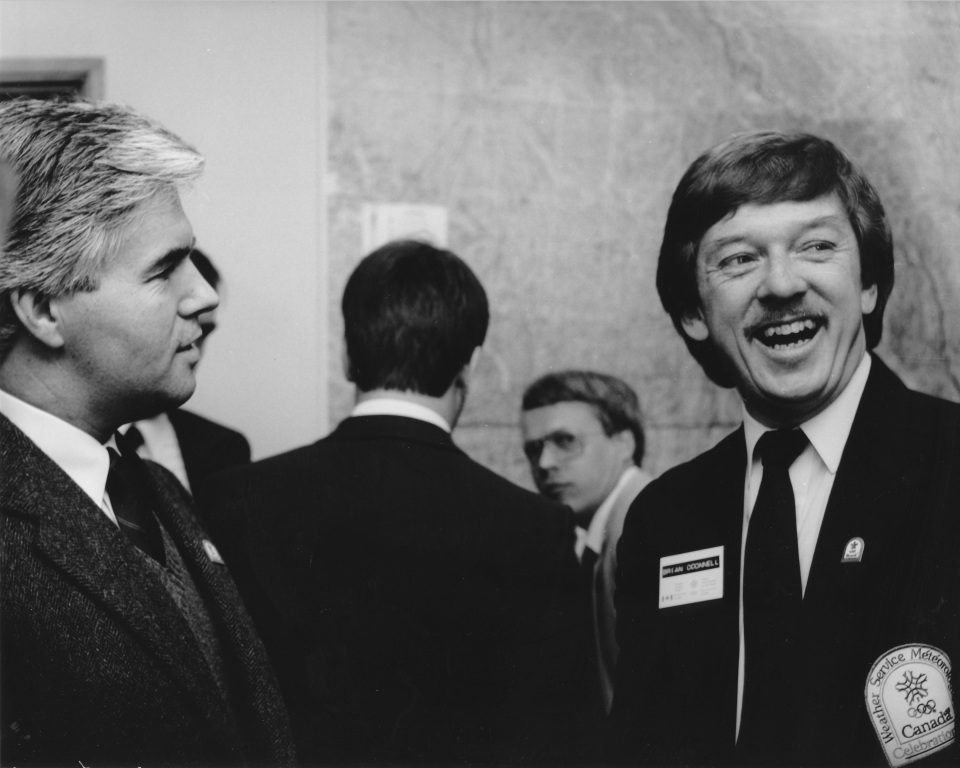 Environment minister Tom McMillan (left) meets regional director AES Western Region,
Brian O'Donnell
(right) on the occasion of the minister's visit to AES in Calgary during the games to inaugurate the METSIS and MPDS internal communications systems.
---
Calgary Winter Olympics Weather Support Team - 1988 Mug Shot Collage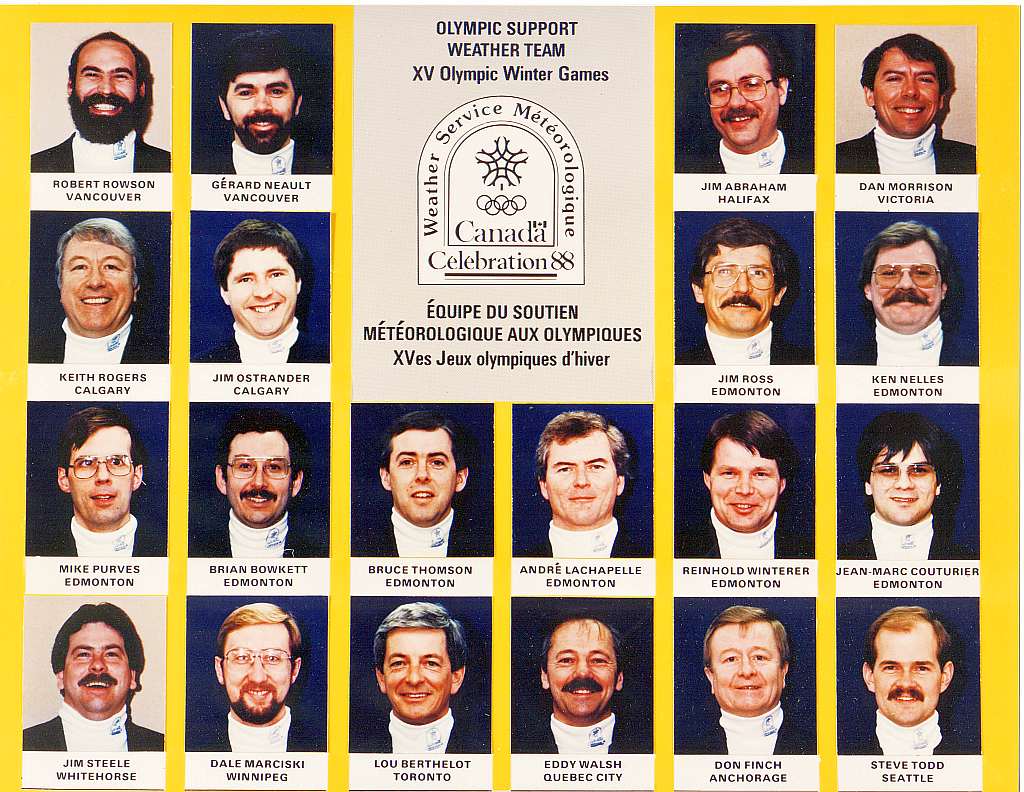 Top row (l to r): Robert Rowson, Gérard Neault, Jim Abraham, Dan Morrison.
Third row: Keith Rogers, Jim Ostrander, Jim Ross, Ken Nelles.
Second row: Mike Purves, Brian Bowkett, Bruce Thomson, P André Lachapelle, Reinhold Winterer, Jean-Marc Couturier.
Front (lower) row: Jim Steele, Dale Marciski, Lou Berthelot, Eddy Walsh, Don Finch (Anchorage, USA), Steve Todd (Seattle, USA).