Short Course 6 in Meteorology - 18 May to 29 August 1942
Original Photo
Go to:

Enlargement Top 5 Rows

/ Go to:

Enlargement Bottom 3 Rows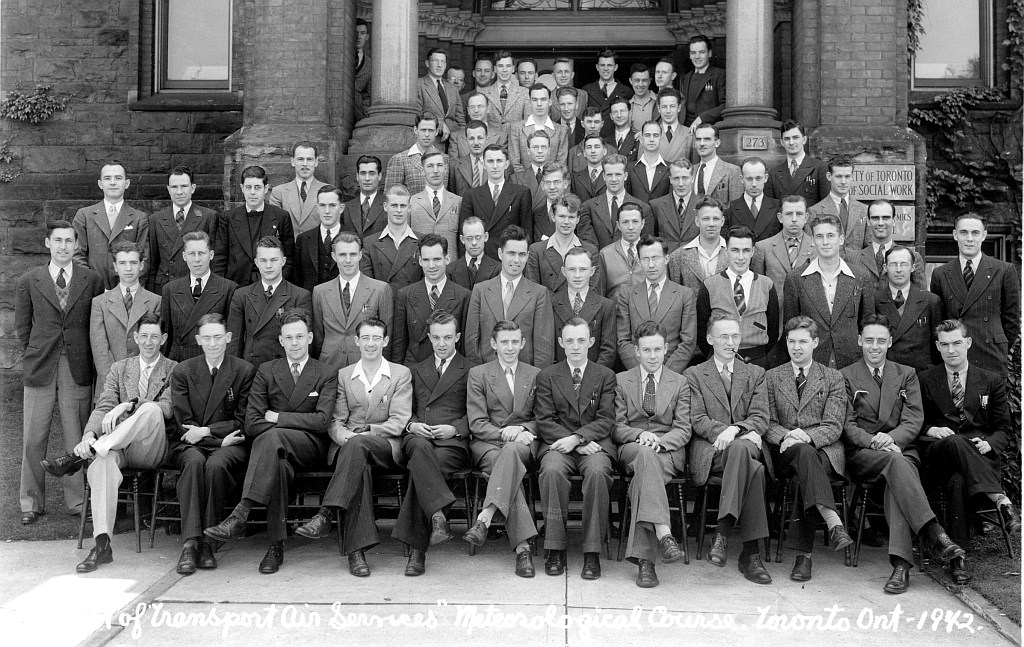 for IDs see enlargements
---
Enlargement Top 5 Rows

Top two rows (staggered) (11, including hidden man behind post)) (l to r): ?, Ken A Hignell, EJ Kermode (partly hidden), D Maclean, ?, FN Beard, ?, R McWilliams, J Calder, ?, W (Bill) H Mackie.
6th row (6): ?, Gordon H Muttit, JR Wilson, KE Andrews (lower), Warren L Godson (instructor), E (Mac) Elsley.
5th row (6): Art H Lamont, E Merv Fleming, ?, DA Moddle, TV Adams, WR Hamilton, Harvey Parkhurst.
4th row (9): Henry G Capelle, ?, Einar Einarsson, _ Dunn, DM Davies, JR Henderson, Jack Bocking, W Hoddinott, Larry T Campbell.

---
Enlargement Bottom 3 Rows


3rd row (11): LR Mumford, AR McCracken, ?, CG Black, HC Belhouse, M Jenkins, Alf F Ingall, WSC Wallace, VE Solman, WM Sprules, EN Ellis (lower at end of row).
2nd row (12): HS Keenlyside, Jack K Heise, JP Francis, GE Cutler, Ralph V Tyner, RHD Conn, GL Clendenning, Don G Black, ?, Ken F Harry, Bill F Ganong, JA Burgess.
Front row (12): R King, Francis G Scott, J Greening, Fred (Bud) R Mahaffy, W (Bill) E Markham, R (Bob) J Smith, Eric HV Dexter, OK Van Sickle, Bob R Dodds, E Boldoc, WEH Cross, RJ Rutherford.



Notes re names from Morley Thomas book

MetMen

:



Following are listed on the course in

MetMen

and could include the 7 unknowns marked by ?
GW Clarke, E Delisle, Laurent B (Monte) Foster, T Fostvedt, GH Hall, JR Hood, TH Lopson, SB MacKay, RV Maclean, TA Nixon, FM Riddle, FLV Taylor, G Wilson, ND Williams.



Following are identified in the photo but not listed in

MetMen

:


D MacLean, R. McWilliams, JP Francis, J Greening, R (Bob) J Smith, E Boldoc (or Bolduc).