Presentation of International Meteorological Organization (IMO) Prize, Downsview 1994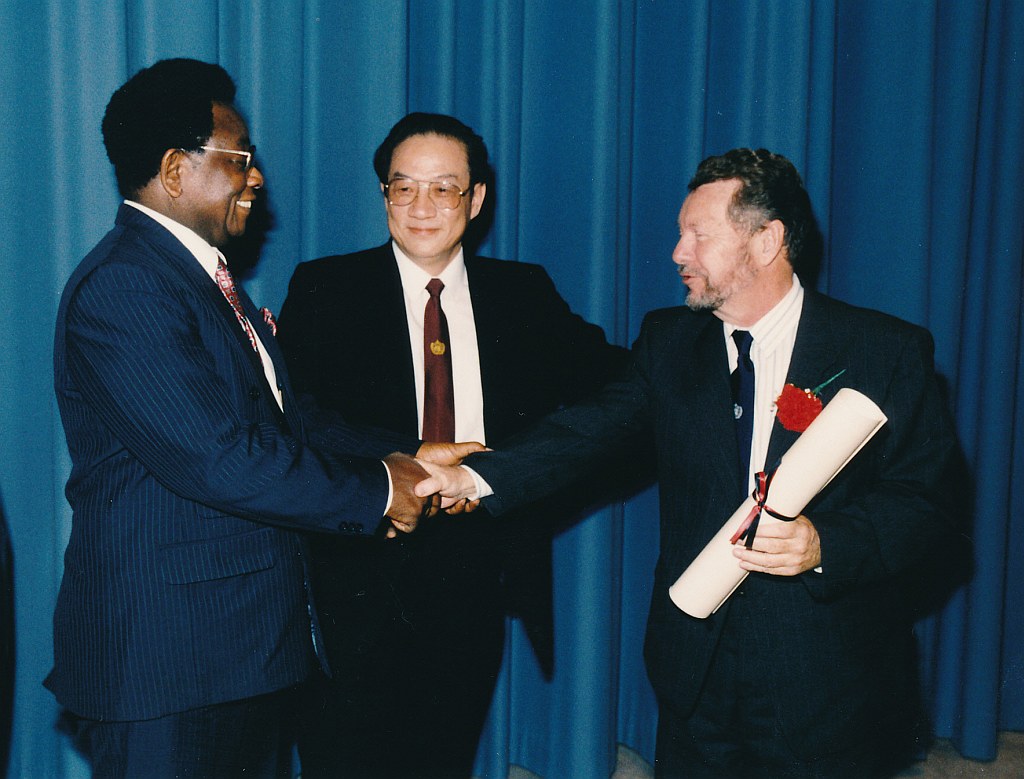 left to right: Dr. GOP Obasi (Secretary-General, WMO) (Presenter), Zou Jingmeng (China),

Dr. James (Jim) P Bruce

.
Citation (in part) reads: "In recognition of his exceptional world wide contributions and accomplishments in the fields of meteorology and hydrology, playing a pivotal role in focusing the attention of the decision-makers and planners on the potential effects of climate and atmospheric changes, providing crucial direction in developing a strategic plan for Technical Cooperation in meteorology and hydrology, and leading the development of the U. N. International Decade for Natural Disaster Reduction."


---
The IMO Prize is awarded annually to individuals for outstanding work in the field of meteorology or in any other field referred to in Article 2 of the WMO Convention.
The IMO Prize consists of: A 14-carat gold medal 57 mm in diameter. It bears on one side the official WMO emblem and on the other side the Latin inscription

Pro singulari erga scientiam meteorologicam merito;

a monetary award of SFR 10 000; and a parchment scroll.

Please go to:

https://public.wmo.int/en/about-us/awards/international-meteorological-organization-imo-prize


for a complete list of IMO Prizewinners, which includes only five Canadians.