AES (MSC) Achievement Awards - 1986 and 1987

Photos and texts on this page were originally published in Feb. / Mar. 1987 and
Feb. / Mar.
1988 editions of
Zephyr

three photos - please scroll down


Achievement Awards late 1986
l to r: Reg Dunkley, Claude Dicaire, Laurie Neil, Tom McMillan (EC Minister), Bob Brown, Stan Stobbe and Howard Ferguson (ADM AES).

Missing: Dave McCulloch (see below).
For forecasting a major storm off the Pacific coast in October 1985 a team of Pacific weather centre forecasters received AES achievement awards. Presenting the awards at a special ceremony was Environment Minister Tom McMillan. The storm which at one time affected 70-100 fishing vessels off Vancouver Island was known as the "Maritime Bomb" (please see

Zephyr

article on this by Gary Wells, OIC Pacific Weather Centre in the January-February 1986 issue).
---
Achievement Awards late 1986 (continued)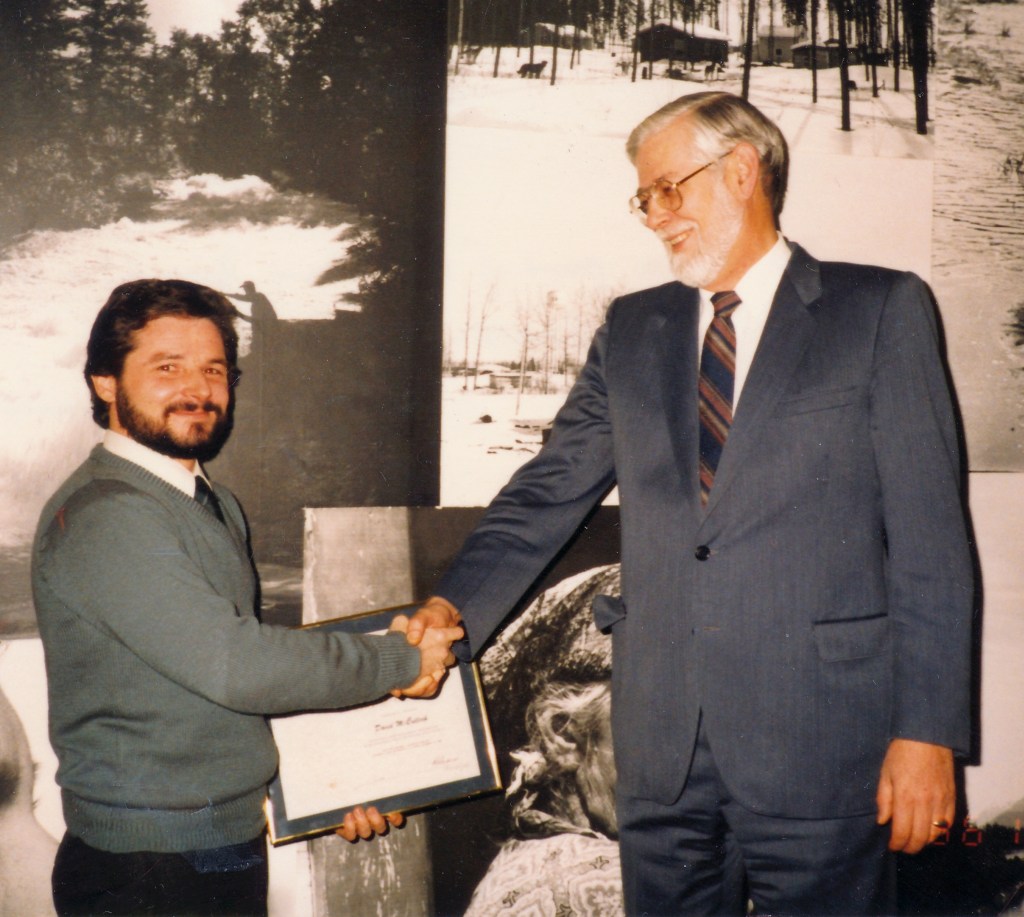 Also part of the "Maritime Bomb" team at the Pacific Weather Centre was Dave McCulloch.
Following his transfer to Ontario Region he also received an achievement award from Howard Ferguson (right)

---
Achievement Awards, 18 December 1987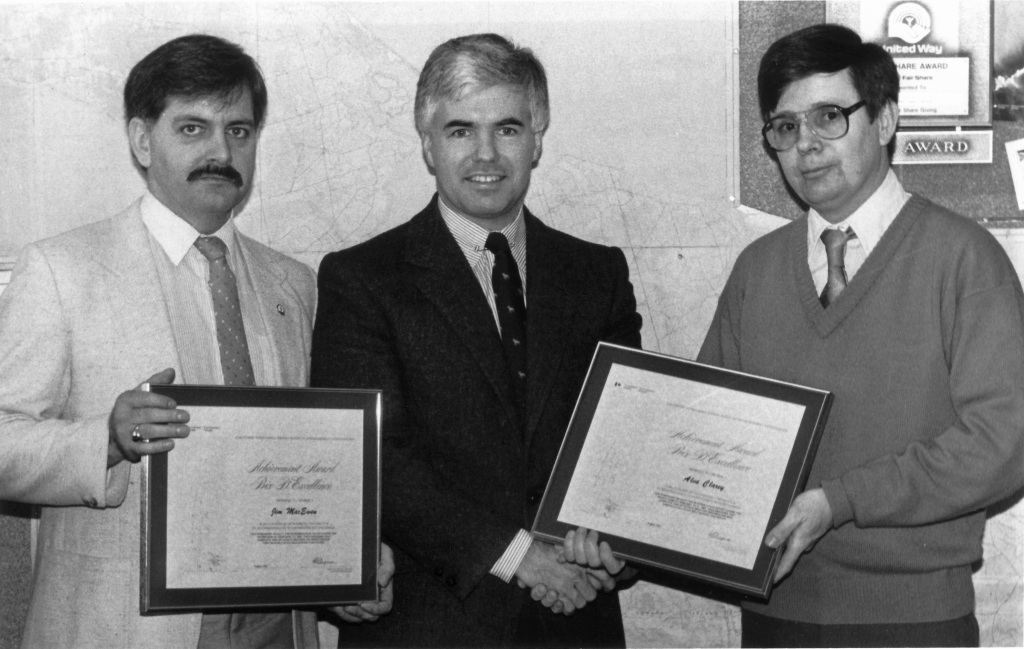 l to r: Jim MacEwen,
Tom McMillan (EC Minister),
Alva Clarey.
excerpt from January-February 1988 issue of

Zephyr:

Jim MacEwen and Alva Clarey, both natives of Prince Edward Island received their citations as a result of performing duties during severe snowstorms "above and beyond the call of duty". Mr. MacEwan was commended for his efforts on January 31, 1987 when 48 cm. of snow and winds gusting to 93 km/h blocked all roads. Mr. MacEwen had to enlist the aid of a snowplough to cover the four kilometre distance to work in one and a half hours. Once there he remained on duty for 32 hours during which time he provided regular weather reports to the media. Mr. Clarey reported six hours ahead of time for his early morning shift because of a severe February snowstorm. Road and weather conditions became so bad that he was forced to remain on duty for a total of 48 hours. During this period he supplied regular reports to the media.