DND Met Tech Tactical Weather Specialist (TWS) Course 1102 - 2012
Basic Occupation Qualification, Meteorological Observer Briefer Technician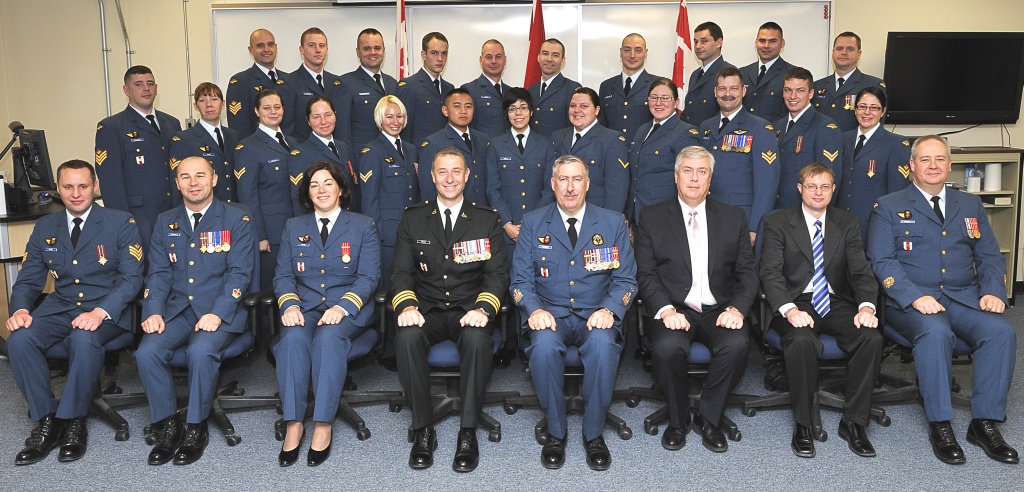 Top row (l to r): Denis Montemont (I), Tyler van Uden, Bradford Brassington, Peter Keagan, Adrian Jones, Christophe Delcour, Patrick Boucher, Josepheus Brennan, Daniel Sommerfeld, Mike Candow (I).


Middle row: Steve Manning (I), Joanne Prost (I), Linda Legault, Amanda Wilson, Amanda Pond, Alfred Castrojas, Laura Rees, Victoria Rogers, Cindy Boudreau, Charles Loykowski, Jean-François Robert, Caroline Linteau (I).
Front row (seated): Kristian A Gosbee, Brent McDonald (CI), Maj Lysane Martel (CMDT CFSMET), LCol PR Kouri (Chief of Staff CFB Borden and Deputy Commander CFSTG), Ray Fonger, Don Clark (DMETOC), Chad Thompson, Brad Dennis.


Return to Index